This T-Shirt fundraiser for our Fire Police Officer Maryanne Mogensen who was recently diagnosed with pancreatic cancer.
All proceeds of this fundraiser will directly benefit Maryanne Mogensen and her family.

NO ONE FIGHTS ALONE!
These 100% Ultra Cotton Gildan T-Shirts are $30 ea. if picked up at our Stump Road station or $38.40 ea. shipped.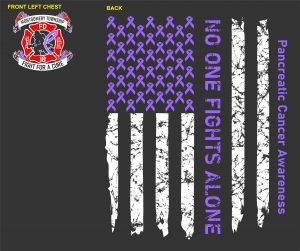 Any questions, please contact Lee Morano at: leemorano@verizon.net